Eagles Capital Advisors, LLC is a minority-owned Economic Development, Management, and Financial Consulting firm. ECA began in 2005 as a Real Estate Investment firm and in 2009 acquired full rights of LLC, and started its consulting operation.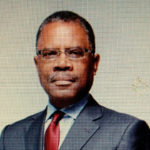 Calvin R. Tucker, Managing Partner, Eagles Capital Advisors, LLC, produced his first "Guide to Business Assistance in Philadelphia" in association with the Philadelphia Citywide Corporation/City of Philadelphia in 1980.
Mr. Tucker graduated from Lincoln University in 1975 with a BA in Business Administration and Finance. He has completed post-graduate work toward his MBA at LaSalle University.
He has over 30 years of business experience, particularly in the financial services industry working with all types of business entities; both large, medium and small.
Mr. Tucker has served as an Executive and Senior Officer of several financial institutions, such as Advance Bank, United Bank of Philadelphia, GMAC Commercial Mortgage Corporation where he originated and closed well over $750 million in loan transactions.
Calvin served as a Regional & National Director of the Resolution Trust Corporation where he managed, liquidated and closed numerous banking institutions and receivership assets.
Mr. Tucker also owned and managed several family businesses, such as International Mailing Technologies, Inc and C. R. Tucker Associates.
ECA provides services to assist clients with loan packaging, loan origination, loan review, credit reviews, financial consulting services, cost-benefit analysis, management advisory, compliance reviews, asset file reviews, and internal controls.
Principals have over 35 years of solid experience in industry, governments, and quasi-government entities in the USA, Canada, Ireland, and France.
Eagles Capital Advisors, LLC is a financial advisory firm dedicated to the growth of mid-sized companies throughout the United States. Built upon a foundation of corporate finance expertise, practical experience and legendary customer service.
 Eagles Capital Advisors consulting services and solutions are aimed at increasing the efficiency of capital raising for mid-sized companies. The firm offers Mezzanine Debt Solutions, Acquisition Financing, Business Consulting Services, and Growth Capital Funding to name a few.
Looking for a First-Class Business Consultant?